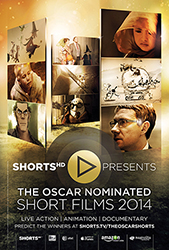 4:00PM Sat, March 1st, 2014
(Multiple Languages, 102 Minutes)
58 N. Adams (old school by courthouse)
Use the South Door
Buffalo, WY 82834

INCLUDED SHORT FILMS:
Get a Horse!

(USA, 6 Min.)
A contemporary homage to the first animated shorts featuring Mickey Mouse, with all-new, black-and-white, hand-drawn animation paired with full-color, 3D, CG filmmaking…in the
same frame.

Mr. Hublot

(Luxembourg/France, 11 Min.)
Mr Hublot lives in a world where characters are made partially of mechanical parts, driving huge vehicles, rub shoulders
with each other. A world where the giant scale of machines and the relentless use of salvaged materials reign supreme.

Feral

(USA, 13 Min.)
A wild boy is found in the woods by a solitary hunter and brought back to civilization. Alienated by a strange new
environment, the boy tries to adapt by using the same strategies that kept him safe in the forest.

Possessions

(Japan, 14 Min.)
The 18th Century. On a stormy night, deep in the mountains, a man has lost his way and comes across a small shrine. When he enters, the space suddenly turns into a room in a different world.

Room on the Broom

(United Kingdom, 25 Min.)
A film based on the wonderful children's picture book written by Julia Donaldson and illustrated by Axel
Scheffler.

HIGHLY COMMENDED additional shorts:

A La Francaise (7 min)
The Missing Scarf (7 min)
The Blue Umbrella (6 min)
This presentation is a collaborative presentation by BSF and JCAHC.