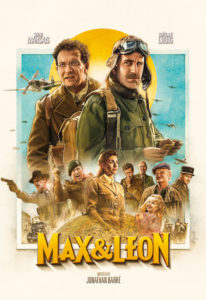 Max & Leon (Comedy, French, 98 Minutes)
April 15, 2017
Saturday 4pm and 7pm

Max & Leon is the first feature film from the stars of the French TV sensation The Palmashow: the creation of stand-up comedians Grégoire Ludig and David Marsais.
In this epic WW2 comedy—in the vein of La Grande Vadrouille (which was for 40 years the most popular French film in the history of France)—our two heroes, Max and Léon, will try by all means possible to avoid going into battle… which leads the duo into a series of demented and wild adventures.
This over-the-top but good-natured parody is filled with truculent puns, unusual details and a strong desire to laugh at everything and never apologize for it.