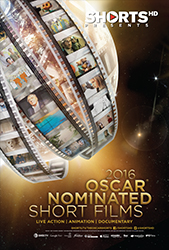 We arranged for purchase of tickets online. Below you can find a link to do so as well as some information about the Animated program. (The Live Action program? Click here.)
Click here to package both shows in one purchase.
Animated Program 86 Minutes, Estimated Rating: PG (mostly).
Sunday, February 21st at 4pm (doors open at 3:30pm)
(buy tix for just this show, $8.00)
Sanjay's Super Team – dir. Sanjay Patel, USA, 7 minutes
In SANJAY'S SUPER TEAM, the new short film from Pixar Animation Studios, accomplished artist Sanjay Patel uses his own experience to tell the story of a young, first-generation Indian-American boy whose love for western pop-culture comes into conflict with his father's traditions. Sanjay is absorbed in the world of cartoons and comics, while his father tries to draw him into the traditions of his Hindu practice. Tedium and reluctance quickly turn into an awe-inspiring adventure as the boy embarks on a journey he never imagined, returning with a new perspective that they can both embrace.
World of Tomorrow – dir. Don Hertzfeldt, USA, 17 minutes
A little girl named Emily is taken on a fantastical tour of her distant future by a surprising visitor who reveals unnerving secrets about humanity's fate.
Bear Story – dir. Gabriel Osorio, Chile, 11 minutes
Every day, a melancholy old bear takes a mechanical diorama that he has created out to his street corner. For a coin, passersby can look into the peephole of his invention, which tells the story of a circus bear who longs to escape and return to the family from which he was taken.
We Can't Live Without Cosmos – dir. Konstantin Bronzit, Russia, 16 minutes
Two best friends have dreamed since childhood of becoming cosmonauts, and together they endure the rigors of training and public scrutiny, and make the sacrifices necessary to achieve their shared goal.
Prologue – dir. Richard Williams, UK, 6 minutes
Clocking in at six minutes, PROLOGUE describes an incident in the Spartan-Athenian wars of 2,400 years ago. In it, a small girl bears witness as warriors battle to death. The dialog-free project utilizes natural sounds to complement the intense animation (entirely animated by Richard Williams himself). Williams – who is best known for his work as animation director on "Who Framed Roger Rabbit", his unfinished feature "The Thief and the Cobbler" and Academy Award-winning "A Christmas Carol" adaptation – has worked on PROLOGUE for many years in between other projects. It was finally completed this year at the Aardman Studios in Bristol, U.K.
Additional Animated Shorts:
If I Was God – dir. Cordell Baker, Canada, 9 minutes
While dissecting a frog in Biology class, a 12-year-old boy who senses the approaching power of adulthood speculates about what he would do if he were God. This darkly whimsical, semi-autobiographical 3D animated short was directed by two-time Oscar®-nominated animator and long-time NFB filmmaker Cordell Barker.
The Short Story of a Fox and a Mouse – France, 7 minutes
A hungry grey fox sets out for a morning hunt, hoping to find a tasty rodent to snack on. But the mouse he finds is no ordinary mouse…
The Loneliest Spotlight – – dir. Bill Plympton, USA, 6 minutes
The life and times of a neglected stoplight, voiced by Patton Oswalt.
Catch It – France, 5 minutes
A group of meerkats takes care of its beloved and unique fruit near their burrow, but a vulture intends to disturb their peace of mind. A chase begins in the savannah.