Tickets On Sale!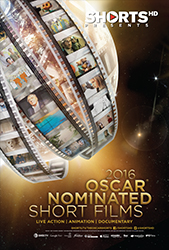 This year Bennett Street Films is revisiting our collaboration with the Cowboy Carousel Center (CCC).
Our presentation of the 2016 Oscar Nominated Shorts will take place on Sunday, February 21st, 2016. This is the same as last year when we only had one showing of each program. The films will show in the micro-theater inside the CCC.
Online Ticket Purchase
Animated Program – 4PM. Doors open at 3:30PM
Live Action Program – 7PM. Doors open at 6:30PM
Both Programs Bundled for One Purchase
(Un)Ratings
Though the Oscar Shorts are unrated, some of you have asked for basic ratings guidelines for the programs:
Animated – PG (mostly). With one clear 6 minute exception that is likely not suitable for children.
Live Action – R. There are several shorts in this year's program that parents might want to restrict their children from watching. Also, please remember, some audience members can find it uncomfortable to watch mature content while sitting next to children.
2016 Ballot – In case you'd like to vote and see how you do compared to the Academy judges! Download available with purchase of a ticket or in hardcopy when you show up at the door.
*Sponsors
Last but not at all least, please acknowledge and remember to thank the folks at the Cowboy Carousel Center and the publishers of the Buffalo Bulletin. There's a good chance this wouldn't be happening without their support.